Jamál, 03 Qudrat (Power), 179 B.E
Seen
OK. I like red …
Check "Daily Log" for 10 May 2022 to see the Guelder-rose (Viburnum opulus) in bloom.
Done
Finished cleaning the first fifty LPs in a collection estimated at over 600 albums. Tomorrow marks one week of listening to one per day and documenting it in the "Listened" section of the Daily Log. At this rate, it will take close to two years to get through them. But what a pleasure!
Today marks the end of my first week using a daily activity worksheet/checklist I set up on Evernote. So far so good!
Tomorrow, I'll start a "Read" section in Daily Log to list books in my library that I'm going to send on their way. I'm debating which online book buyer to use, but the good news is there are several to choose from that get good reviews.
Just for the record, going off Daylight Savings Time brings me little joy ;-)
Noted
Astral Prospecting on Instagram | Astral Prospecting on YouTube | Astral Prospecting on Facebook
Marc Bosserman on Instagram | Marc Bosserman on Facebook | Marc Bosserman Music and Musings on YouTube
Listened
Chuck Mangione Quartet – The Chuck Mangione Quartet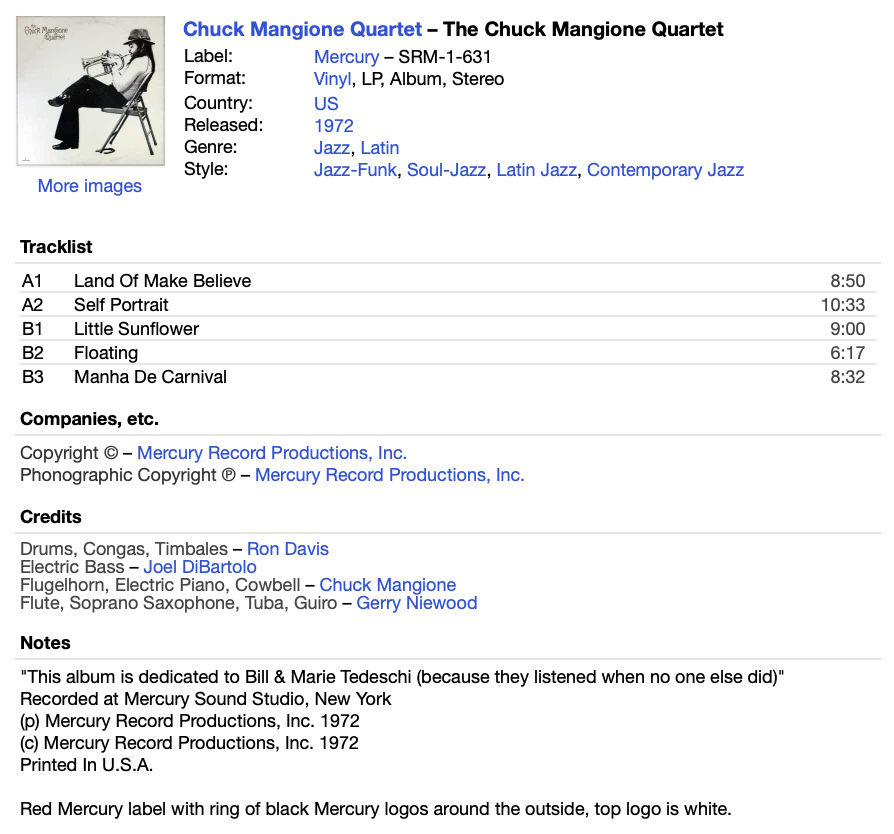 Notes by Discogs.com
Quoted
Praise be to God! The standard of liberty is held aloft in this land. You enjoy political liberty; you enjoy liberty of thought and speech, religious liberty, racial and personal liberty. Surely this is worthy of appreciation and thanksgiving. In this connection let me mention the freedom, hospitality and universal welcome extended to me during my recent travels throughout America. I wish also to reciprocate fully and completely the warm greeting and friendly attitude of the reverend doctor, pastor of this church, whose loving and quickened susceptibilities especially command acknowledgment. Surely men who are leaders of thought must conform to the example of his kindliness and goodwill. Liberalism is essential in this day—justness and equity toward all nations and people. Human attitudes must not be limited; for God is unlimited, and whosoever is the servant of the threshold of God must, likewise, be free from limitations. The world of existence is an emanation of the merciful attribute of God. God has shone forth upon the phenomena of being through His effulgence of mercy, and He is clement and kind to all His creation. Therefore, the world of humanity must ever be the recipient of bounties from His majesty, the eternal Lord, even as Christ has declared, "Be ye therefore perfect, even as your Father which is in heaven is perfect." For His bounties, like the light and heat of the sun in the material heavens, descend alike upon all mankind. Consequently, man must learn the lesson of kindness and beneficence from God Himself. Just as God is kind to all humanity, man also must be kind to his fellow creatures. If his attitude is just and loving toward his fellowmen, toward all creation, then indeed is he worthy of being pronounced the image and likeness of God.

Brotherhood, or fraternity, is of different kinds. It may be family association, the intimate relationship of the household. This is limited and subject to change and disruption. How often it happens that in a family love and agreement are changed into enmity and antagonism. Another form of fraternity is manifest in patriotism. Man loves his fellowmen because they belong to the same native land. This is also limited and subject to change and disintegration as, for instance, when sons of the same fatherland are opposed to each other in war, bloodshed and battle. Still another brotherhood, or fraternity, is that which arises from racial unity, the oneness of racial origin, producing ties of affinity and association. This, likewise, has its limitation and liability to change, for often war and deadly strife have been witnessed between people and nations of the same racial lineage. There is a fourth kind of brotherhood, the attitude of man toward humanity itself, the altruistic love of humankind and recognition of the fundamental human bond. Although this is unlimited, it is, nevertheless, susceptible to change and destruction. Even from this universal fraternal bond the looked-for result does not appear. What is the looked-for result? Loving-kindness among all human creatures and a firm, indestructible brotherhood which includes all the divine possibilities and significances in humanity. Therefore, it is evident that fraternity, love and kindness based upon family, native land, race or an attitude of altruism are neither sufficient nor permanent since all of them are limited, restricted and liable to change and disruption. For in the family there is discord and alienation; among sons of the same fatherland, strife and internecine warfare are witnessed; between those of a given race, hostility and hatred are frequent; and even among the altruists, varying aspects of opinion and lack of unselfish devotion give little promise of permanent and indestructible unity among mankind.

Therefore, the Lord of mankind has caused His holy, divine Manifestations to come into the world. He has revealed His heavenly Books in order to establish spiritual brotherhood and through the power of the Holy Spirit has made it practicable for perfect fraternity to be realized among mankind. And when through the breaths of the Holy Spirit this perfect fraternity and agreement are established amongst men—this brotherhood and love being spiritual in character, this loving-kindness being heavenly, these constraining bonds being divine—a unity appears which is indissoluble, unchanging and never subject to transformation. It is ever the same and will forever remain the same. 1