Jamál, 06 Mashíyyat (Will), 179 B.E
Seen
Also noteworthy is the sunrise to start the second day of October!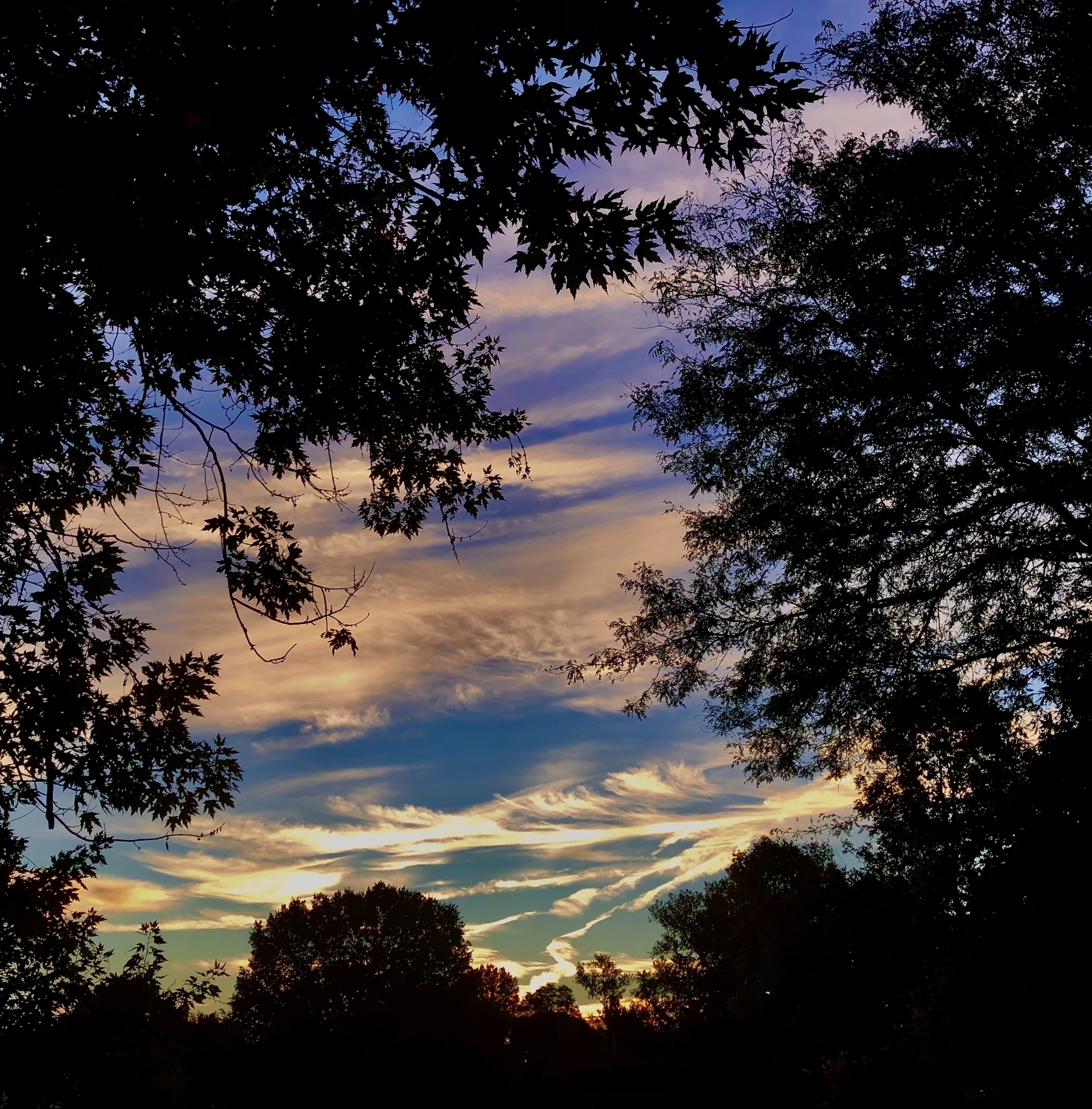 Done
Suffered from a bad attitude today. Don't know exactly what was behind it, but if I own up to it, maybe tomorrow will be different!
Scheduled the next nine posts in the "239 Days in America" series on Frameworks for Understanding the World.
Revised the draft "How's The Weather?" Newsletter #5 in advance of distribution on Tuesday via MailChimp. It's out for review by the "team."
Used TortugaTape greenhouse tape to recover the front turn signal lenses on our old car. Looks like it will work. Impressive product!
Trimmed the next set of evergreens in the front. I'm considering pulling out the entire row and starting over with new shrubs. The old ones have overgrown half of the sidewalk and can't be trimmed back. Not good.
That's enough for one day…
Noted
Astral Prospecting on Instagram | Astral Prospecting on YouTube | Astral Prospecting on Facebook
Marc Bosserman on Instagram | Marc Bosserman on Facebook | Marc Bosserman Music and Musings on YouTube
Quoted
After we have proved the validity of the Manifestations of the Word of God by investigating the divine teachings, we must discover for a certainty whether They have been real Educators of mankind. Among the revelators of the law of God was Moses. When He appeared, all the contemporaneous nations rejected Him. Notwithstanding this, single and alone He promulgated the divine teachings and liberated a nation from the lowest condition of degradation and bondage. The people of Israel were ignorant, lowly, debased in morals—a race of slaves under burdensome oppression. Moses led them out of captivity and brought them to the Holy Land. He educated and disciplined them, established among them the foundations of material and divine civilization. Through the education of Moses these ignorant people attained an advanced degree of power and prestige, culminating in the glory of the reign of Solomon. From the abyss of bereavement and slavery they were uplifted to the highest plane of progress and civilized nationhood. It is evident, therefore, that Moses was an Educator and Teacher. The purpose and mission of the holy, divine Messengers is the training and advancement of humanity, the cultivation of divine fruits in the gardens of human hearts, the reflection of heavenly effulgence in the mirrors of human souls, the quickening of mental capacity and the increase of spiritual susceptibilities. When these results and outcomes are witnessed in mankind, the function and mission of the Manifestations are unmistakable. Christ, single and alone, without schooling or outward education and trained to labor in the shop of a carpenter, appeared in the world at the time when the Jewish nation was in the greatest abasement. This radiant Youth, without wealth, power of armies or prestige, rescued the Jews who believed on Him from tyranny and degradation and lifted them to the highest plane of development and glory. Peter, His disciple, was a fisherman. Through the power of Christ he shed light upon all the horizons of the world. Furthermore, various people of the Greek, Roman, Egyptian and Assyrian nations were brought together in unity and agreement; where warfare and bloodshed had existed, humility and love were manifest, and the foundations of divine religion were established, never to be destroyed. This proves that Christ was a heavenly Teacher and Educator of the world of humanity, for such evidences are historical and irrefutable, not based upon tradition and circumstantial report. The power of His Word in cementing these nations together is as clear and evident as the sun at midday. There is no need of further demonstration. 1