Istijlál, 15 'Izzat (Might), 179 B.E
Seen
As the summer comes to a close, the thick skin of the magnolia leaves begins to thin and they take on a somewhat translucent cast before turning colors and eventually falling down. As an example, here's a photo of one of our favorite magnolia trees taken underneath its canopy looking up: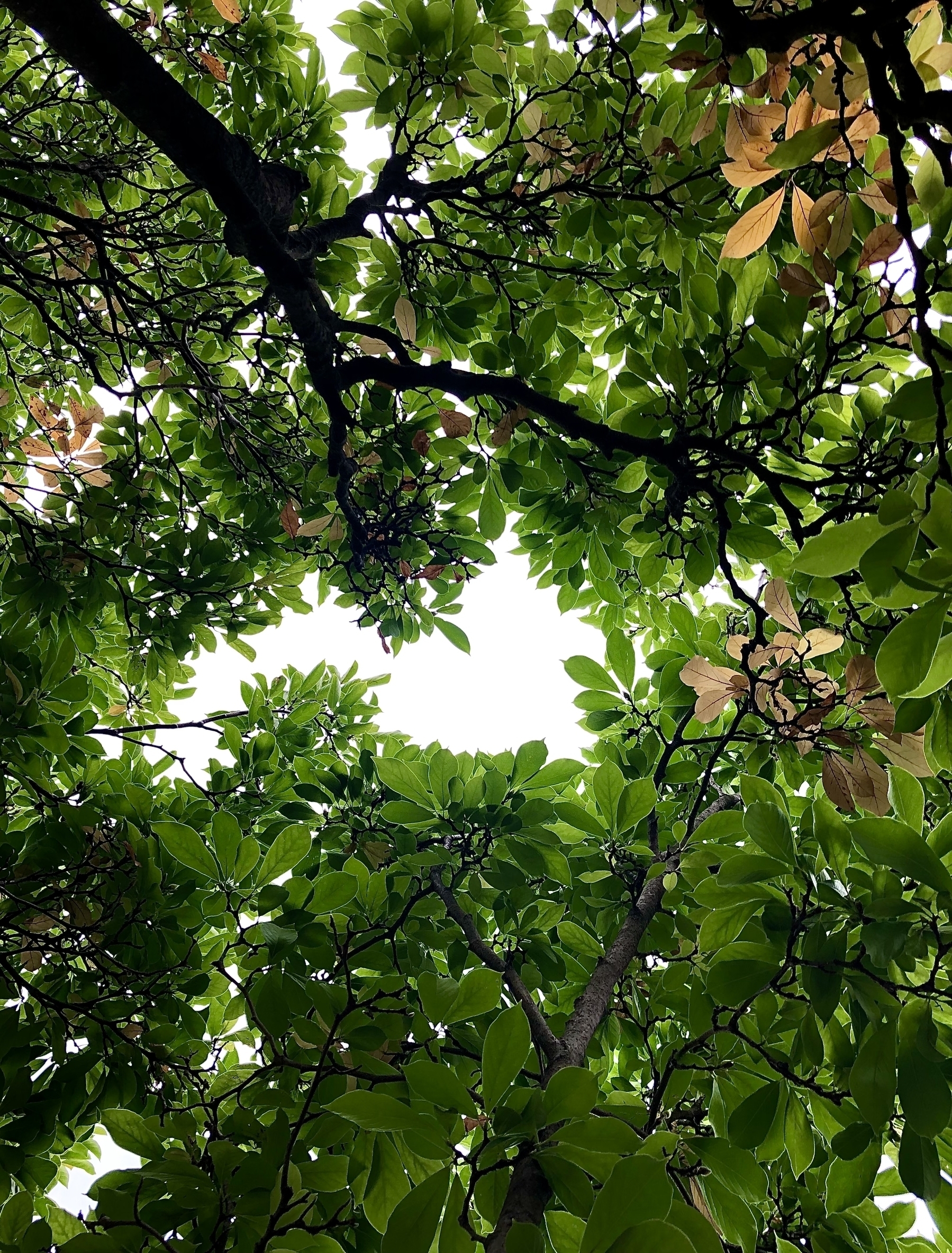 And it only gets better with every passing week during this part of fall!
Done
Got back from Detroit with brother-in-law in tow. We're looking forward to having him with us before he returns home mid-October for his next follow-up doctor appointment. All I can say is that having to change a lot of things in one's life after 60+ years doing them the way that got one where one is now is not easy — and depending on one's opinion, may not be worth it. At the end of the day, the decision is personal and private. The only inviolate rule is that one must take responsibility for the consequences; there is no one else to blame. Darn!
Noted
Astral Prospecting on Instagram | Astral Prospecting on YouTube | Astral Prospecting on Facebook
Marc Bosserman on Instagram | Marc Bosserman on Facebook | Marc Bosserman Music and Musings on YouTube
Quoted
This same difference is noticeable among animals; some have been domesticated, educated, others left wild. The proof is clear that the world of nature is imperfect, the world of education perfect. That is to say, man is rescued from the exigencies of nature by training and culture; consequently, education is necessary, obligatory. But education is of various kinds. There is a training and development of the physical body which ensures strength and growth. There is intellectual education or mental training for which schools and colleges are founded. The third kind of education is that of the spirit. Through the breaths of the Holy Spirit man is uplifted into the world of moralities and illumined by the lights of divine bestowals. The moral world is only attained through the effulgence of the Sun of Reality and the quickening life of the divine spirit. For this reason the holy Manifestations of God appear in the human world. They come to educate and illuminate mankind, to bestow spiritual susceptibilities, to quicken inner perceptions and thereby adorn the reality of man—the human temple—with divine graces. Through Them man may become the point of the emanations of God and the recipient of heavenly bounties. Under the influence of Their teachings he may become the manifestation of the effulgences of God and a magnet attracting the lights of the supreme world. For this reason the holy, divine Manifestations are the first Teachers and Educators of humanity; Their traces are the highest evidences, and Their spiritual tuition is universal in its application to the world of mankind. Their influence and power are immeasurable and unlimited. One heavenly Personage has developed many nations. For example, Jesus Christ, single and unassisted, educated the Roman, Greek and Assyrian nations and all of Europe. It is evident, therefore, that the greatest education is that of the Spirit.

The spirit of man must acquire its bounties from the Kingdom of God in order that it may become the mirror and manifestation of lights and the dawning point of divine traces, because the human reality is like the soil. If no bounty of rain descends from heaven upon the soil, if no heat of the sun penetrates, it will remain black, forbidding, unproductive; but when the moistening shower and the effulgent glow of the sun's rays fall upon it, beautiful and redolent flowers grow from its bosom. Similarly, the human spirit or reality of man, unless it becomes the recipient of the lights of the Kingdom, develops divine susceptibilities and consciously reflects the effulgence of God, will not be the manifestation of ideal bounties, for only the reality of man can become the mirror wherein the lights of God are revealed. The reality of man will then be as the spirit of this world, for just as the animus of life quickens the physical human body, so the body of the world will receive its vivification through the animating virtue of the sanctified spirit of man. 1