Istiqlál, 02 'Izzat (Might), 179 B.E
Seen
In honor of one queen's passing, another queen bloomed starting early in the evening of September 8th: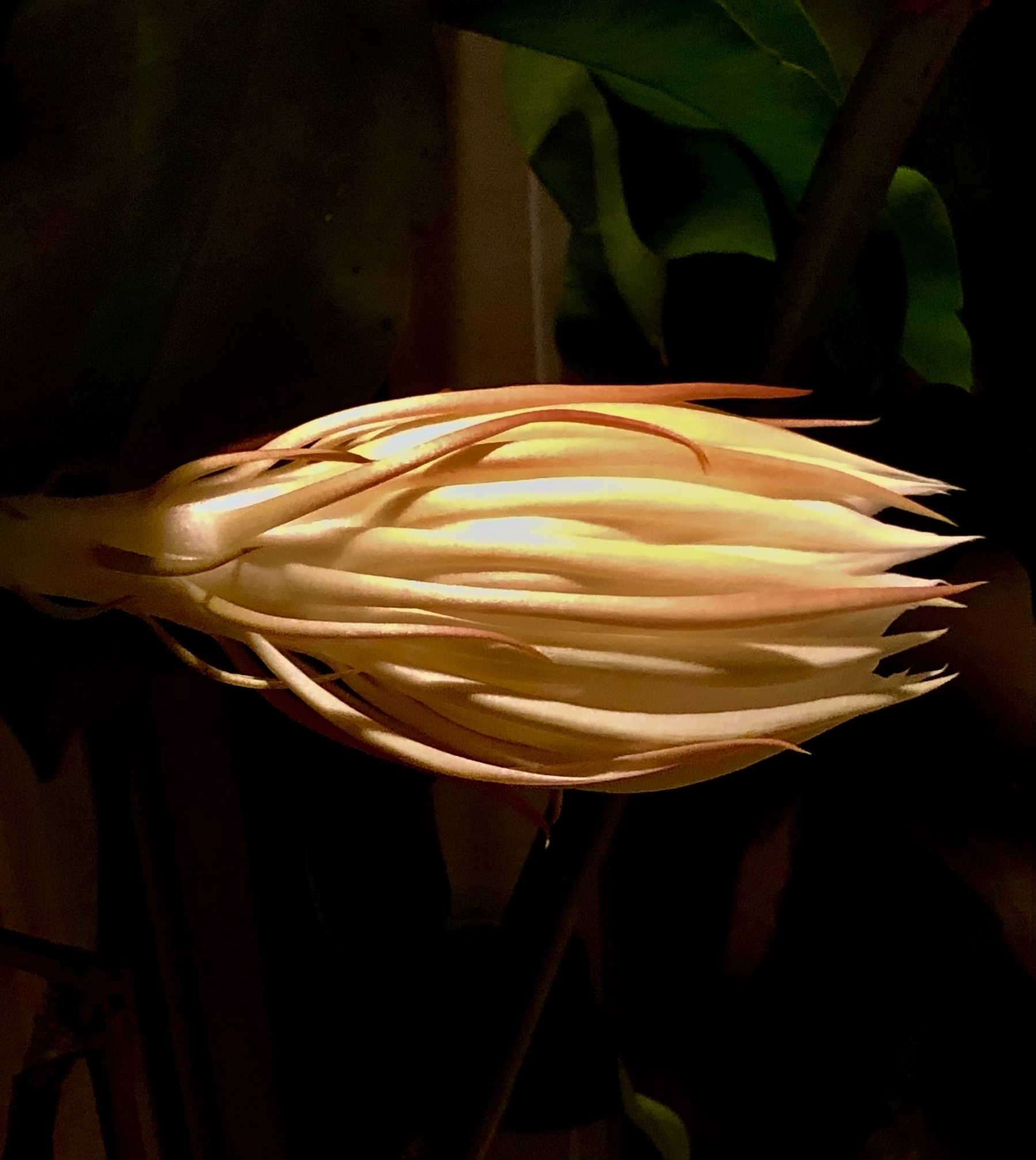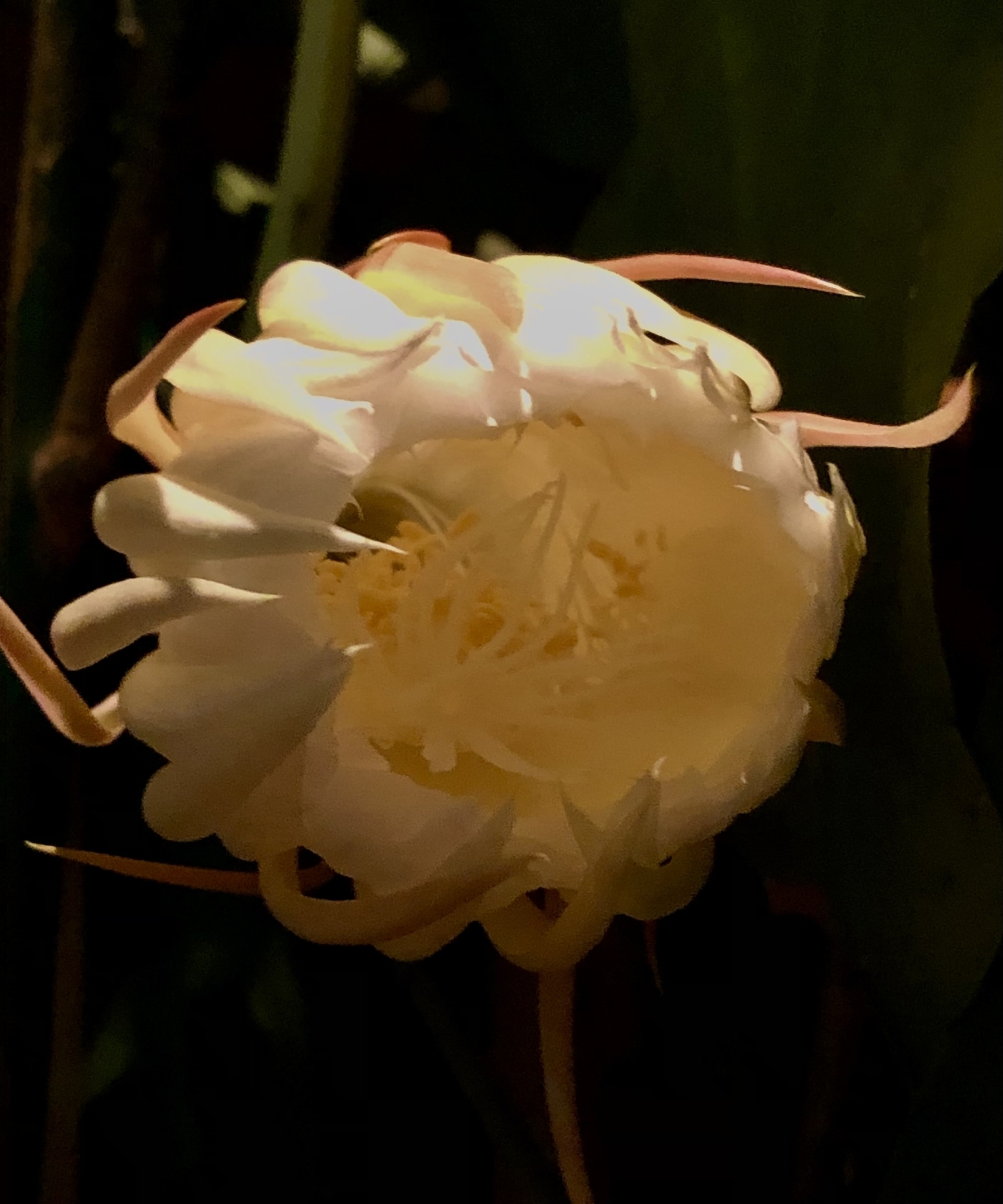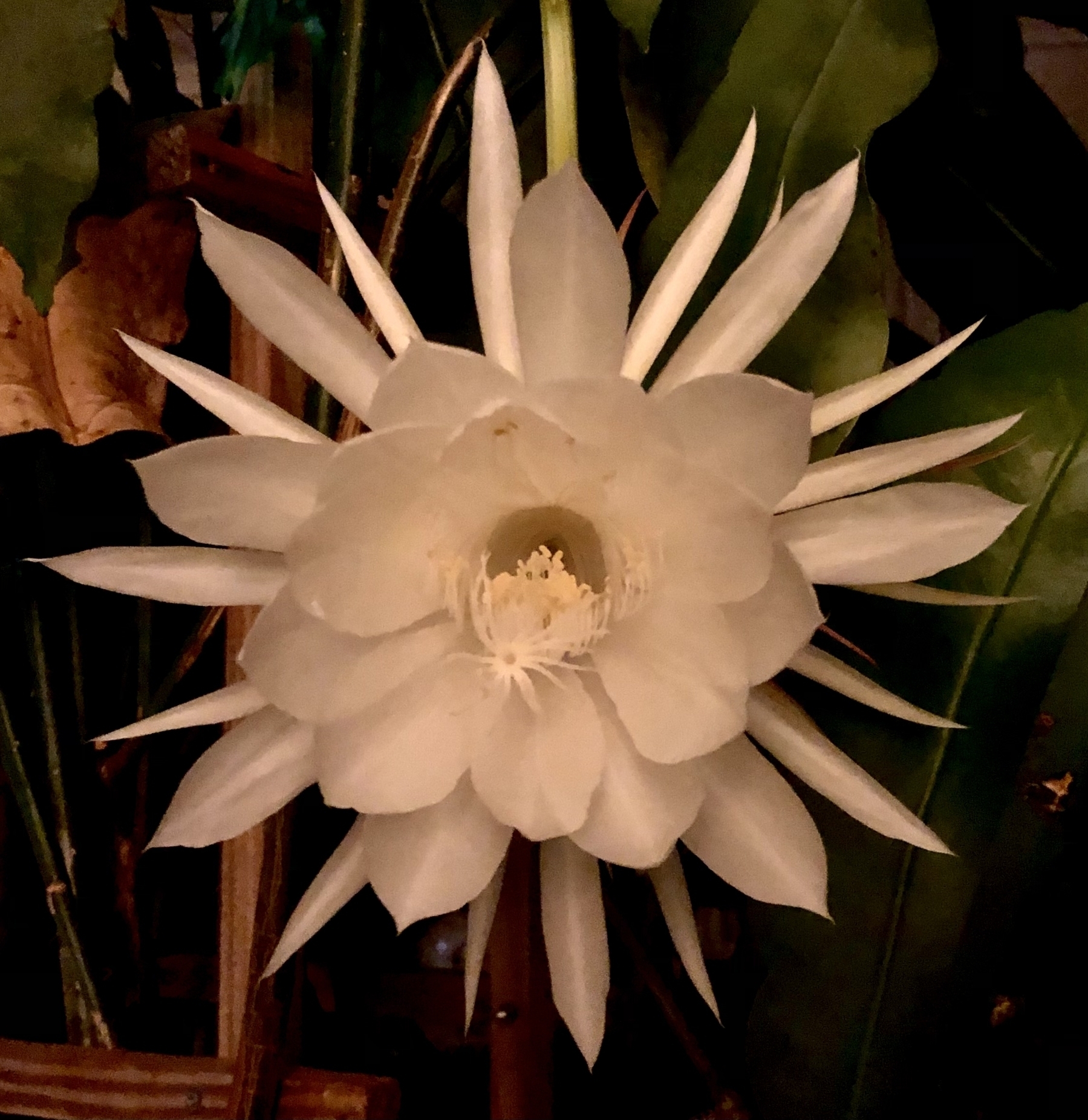 And was done by this morning's early light:
Done
Added "Urban Gardens Framework" (UGF) project as a member to GAVNet TimeBank. Added Michael Greenman to GAVNet TimeBank as a member so he can assist with administration of the UGF project. Participated in a ZOOM call with the "How's The Weather?" (HTW) core team to outline content for the next issue of the HTW newsletter. Expanded and refined the description of the UGF project for inclusion on its StudioCoLab webpage. Here's some extracts from it:
Throughout the first two decades of this century, members and leaders of community gardens in the Columbus, Ohio metropolitan area have established a basic collaborative network among themselves.

Due to persistent and pernicious food insecurity among vulnerable populations in Columbus, these urban garden groups now seek to increase capacity for production, processing, and distribution of healthy fresh food along the "farm to fork" value chain.

To be successful, such an endeavor will require the addition of more growers as well as individuals and organizations that can cover the downstream functions necessary to get food in the hands of all those who need it.

Since this approach flies in the face of the dominant commercial food system, efforts to move forward will be met by considerable inertia and will demand a significant investment of resources, human value, and community commitment to challenge the status quo to change.

Because the grand scope of this initiative involves a broad range of human circumstances, a diverse set of actors, and unwavering willingness by all to be of service to humanity, whatever evolves that enables participants to fulfill the goal can become a useful framework for other communities to adapt to their own conditions.

In effect, success will yield two outcomes:

A robust, effective, and sustainable local fresh food system that eliminates food insecurity in Columbus; and
A framework for action that others can easily use in their localities to overcome food insecurity.
This is shaping up to be a fun project!
Noted
Astral Prospecting on Instagram and Astral Prospecting on Facebook
Marc Bosserman on Instagram Marc Bosserman on Facebook, and Marc Bosserman Music and Musings on YouTube
Quoted
Prejudice—whether it be religious, racial, patriotic or political in its origin and aspect—is the destroyer of human foundations and opposed to the commands of God. God has sent forth His Prophets for the sole purpose of creating love and unity in the world of human hearts. All the heavenly Books are the written word of love. If they prove to be the cause of prejudice and human estrangement, they have become fruitless. Therefore, religious prejudice is especially opposed to the will and command of God. Racial and national prejudices which separate mankind into groups and branches, likewise, have a false and unjustifiable foundation, for all men are the children of Adam and essentially of one family. There should be no racial alienation or national division among humankind. Such distinctions as French, German, Persian, Anglo-Saxon are human and artificial; they have neither significance nor recognition in the estimation of God. In His estimate all are one, the children of one family; and God is equally kind to them. The earth has one surface. God has not divided this surface by boundaries and barriers to separate races and peoples. Man has set up and established these imaginary lines, giving to each restricted area a name and the limitation of a native land or nationhood. By this division and separation into groups and branches of mankind, prejudice is engendered which becomes a fruitful source of war and strife. Impelled by this prejudice, races and nations declare war against each other; the blood of the innocent is poured out, and the earth torn by violence. Therefore, it has been decreed by God in this day that these prejudices and differences shall be laid aside. All are commanded to seek the good pleasure of the Lord of unity, to follow His command and obey His will; in this way the world of humanity shall become illumined with the reality of love and reconciliation. 1