Istijlál, 11 Kamál (Perfection), 179 B.E
Seen
If it weren't for the trees this could almost be a photo taken by the James Webb Space Telescope: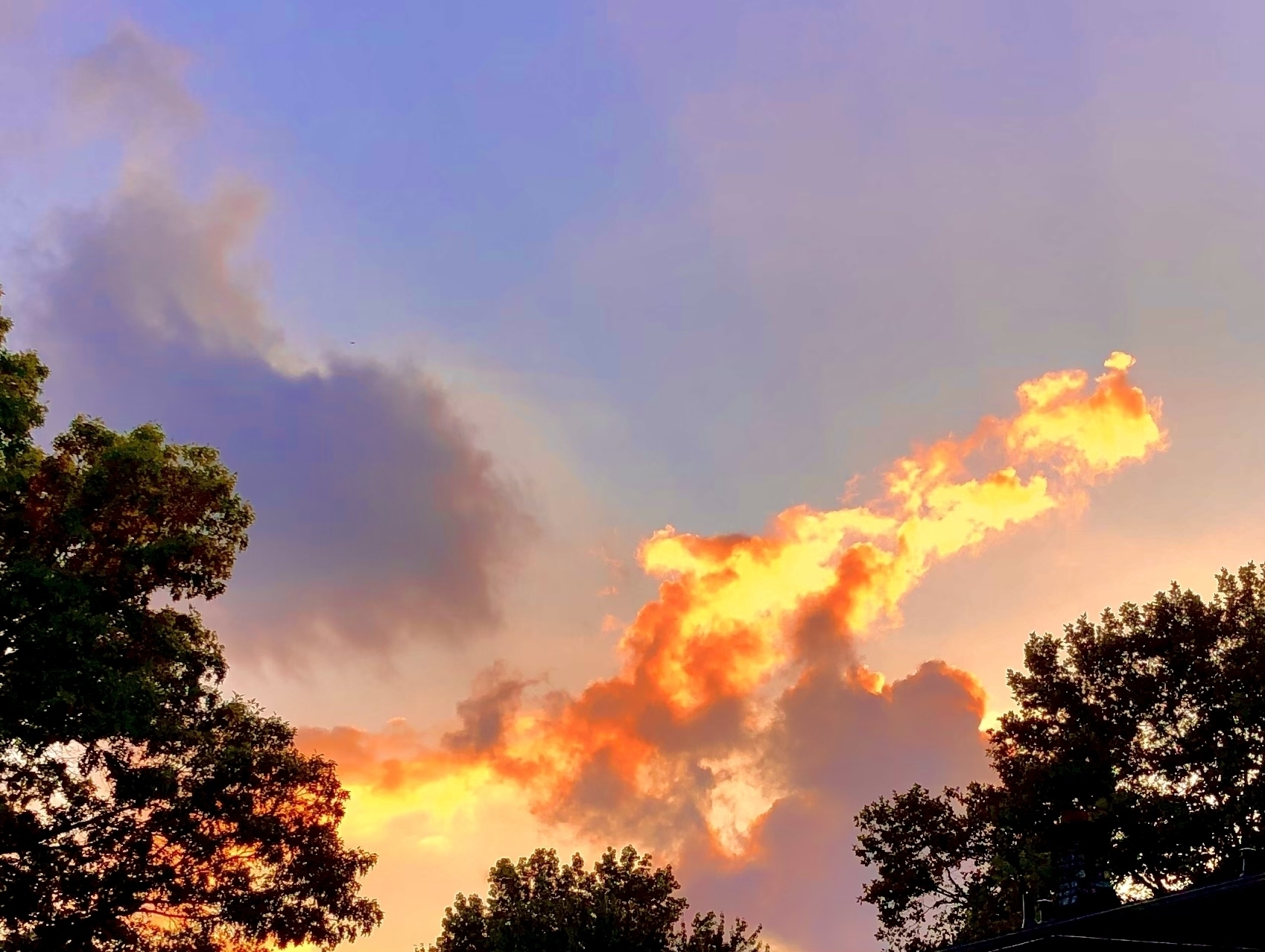 In terms of space photo high jinks, I'd rather be fooled by a sunset than a slice of chorizo.
Done
A cooler day with less humidity. Took the opportunity to "harvest" the burdock so the burs won't stick on whomever or whatever gets too close. Then, mowed the yard all the while recalling the article, "How to Fall Out of Love With Your Lawn," published by The New York Times earlier this week and harboring quiet mental rebellion against the practice with each pass of the mower. The story I tell myself every year is that NEXT year, I'll at least opt for an electric mower!
Earlier this morning, after years of procrastination, I went ahead and secured https://greeneracresvaluenetwork.org on WordPress as the host for Greener Acres Value Network News. No more ads. Now, I just have to amp it up. I'll start tomorrow…
Noted
Astral Prospecting on Instagram and Astral Prospecting on Facebook
Marc Bosserman on Instagram Marc Bosserman on Facebook, and Marc Bosserman Music and Musings on YouTube
Quoted
It is evident, therefore, that man is ruler over nature's sphere and province. Nature is inert; man is progressive. Nature has no consciousness; man is endowed with it. Nature is without volition and acts perforce, whereas man possesses a mighty will. Nature is incapable of discovering mysteries or realities, whereas man is especially fitted to do so. Nature is not in touch with the realm of God; man is attuned to its evidences. Nature is uninformed of God; man is conscious of Him. Man acquires divine virtues; nature is denied them. Man can voluntarily discontinue vices; nature has no power to modify the influence of its instincts. Altogether it is evident that man is more noble and superior, that in him there is an ideal power surpassing nature. He has consciousness, volition, memory, intelligent power, divine attributes and virtues of which nature is completely deprived and bereft; therefore, man is higher and nobler by reason of the ideal and heavenly force latent and manifest in him. 1