Istiqlál, 17 Kalimát (Words), 179 B.E
Seen
Just found this bittersweet nightshade (Solanum dulcamara) growing among a patch of hostas and common Three-seeded mercury (Acalypha rhomboidea) (more on this in an upcoming post)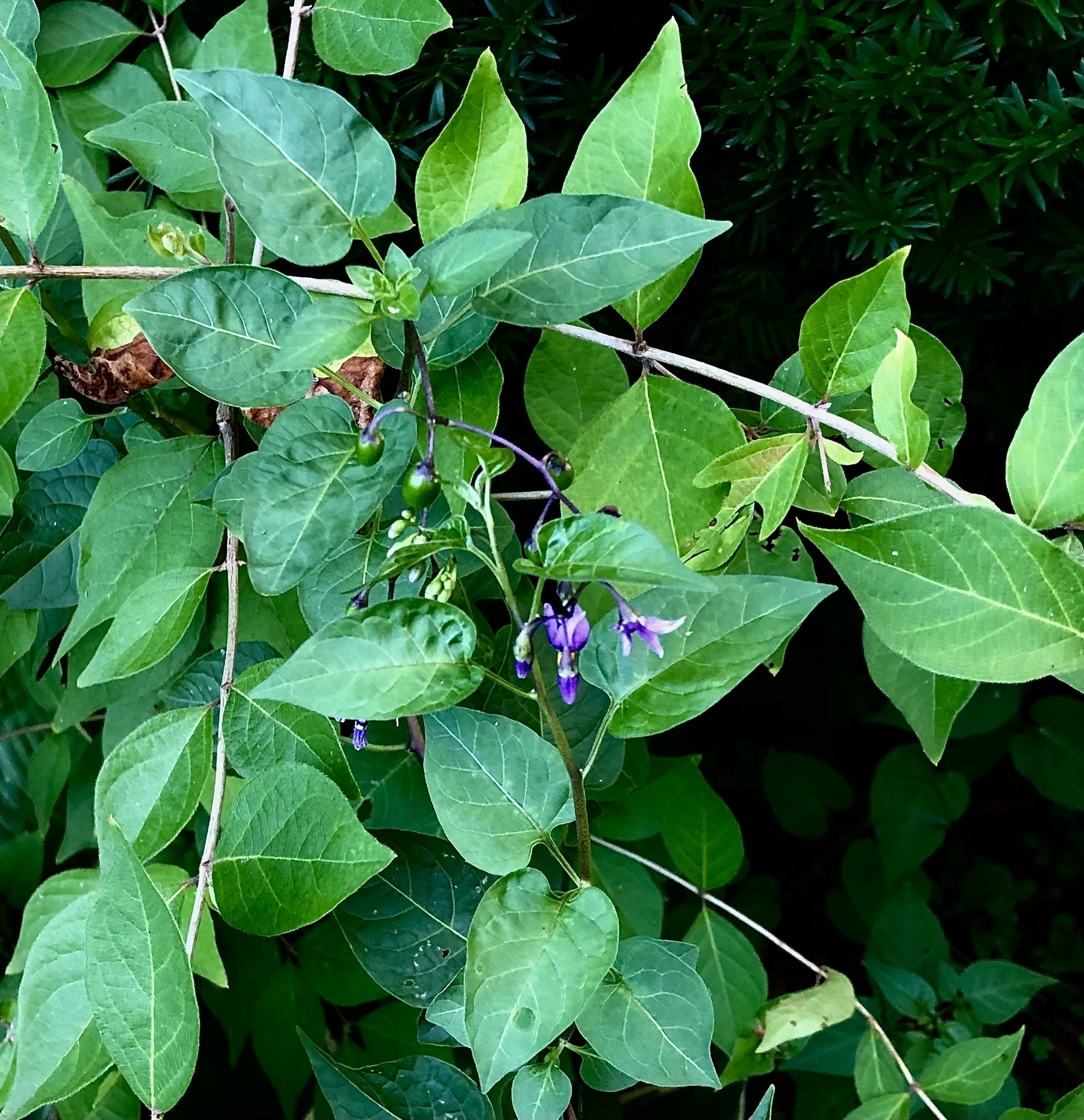 Wikipedia says, "However, the berry is poisonous to humans and livestock, and the berry's attractive and familiar look make it dangerous for children." I won't leave it on the off-chance our three-year-old granddaughter goes "exploring."
Done
Wrote to the author of a new booklet about collaboration and consultation who wanted feedback. It gave me the opportunity to take a deeper dive into the use of time to measure the speed, breadth, and degree of change that results from what people think, say, and do:
Time measures the flow of human intelligence and human spirit as they commingle so that people, working together, understand their problems, see their opportunities, develop their plans, make their commitments, initiate their actions, observe the results, respond as necessary, discover what works, and influence the formal systems to change based on they learned.

In other words, how much time do people spend participating in the initial "conversations that matter," then searching for "ways that work" and ultimately, driving "changes that sustain" based on what they now know?

How much time lapses between the identification of a problem or opportunity and the implementation of its solution? For instance, how long does a community member remain homeless, or hungry, or without appropriate clothing, or without school supplies, or without access to healthcare, or whatever basic need is not being fulfilled?

How fluidly do community members shift their time to deliver their uniquely powerful intelligence footprints and indomitable creative spirits in service to others and to make sure the basic needs of everyone are met?
Right now, this is kind of half-baked so I need to some more thought into it…
Noted
Astral Prospecting on Instagram and Astral Prospecting on Facebook
Marc Bosserman on Instagram Marc Bosserman on Facebook, and Marc Bosserman Music and Musings on YouTube
Quoted
Just as the animal is more noble than the vegetable and mineral, so man is superior to the animal. The animal is bereft of ideality—that is to say, it is a captive of the world of nature and not in touch with that which lies within and beyond nature; it is without spiritual susceptibilities, deprived of the attractions of consciousness, unconscious of the world of God and incapable of deviating from the law of nature. It is different with man. Man is possessed of the emanations of consciousness; he has perception, ideality and is capable of discovering the mysteries of the universe. All the industries, inventions and facilities surrounding our daily life were at one time hidden secrets of nature, but the reality of man penetrated them and made them subject to his purposes. According to nature's laws they should have remained latent and hidden; but man, having transcended those laws, discovered these mysteries and brought them out of the plane of the invisible into the realm of the known and visible. 1