Istiqlál, 08 Rahmat (Mercy), 179 B.E
Seen
Checked to see what else is in bloom now that July is upon us. Our yellow daylilies (Hemerocallis lilioasphodelus) are doing nicely. Here's one of them in its natural state: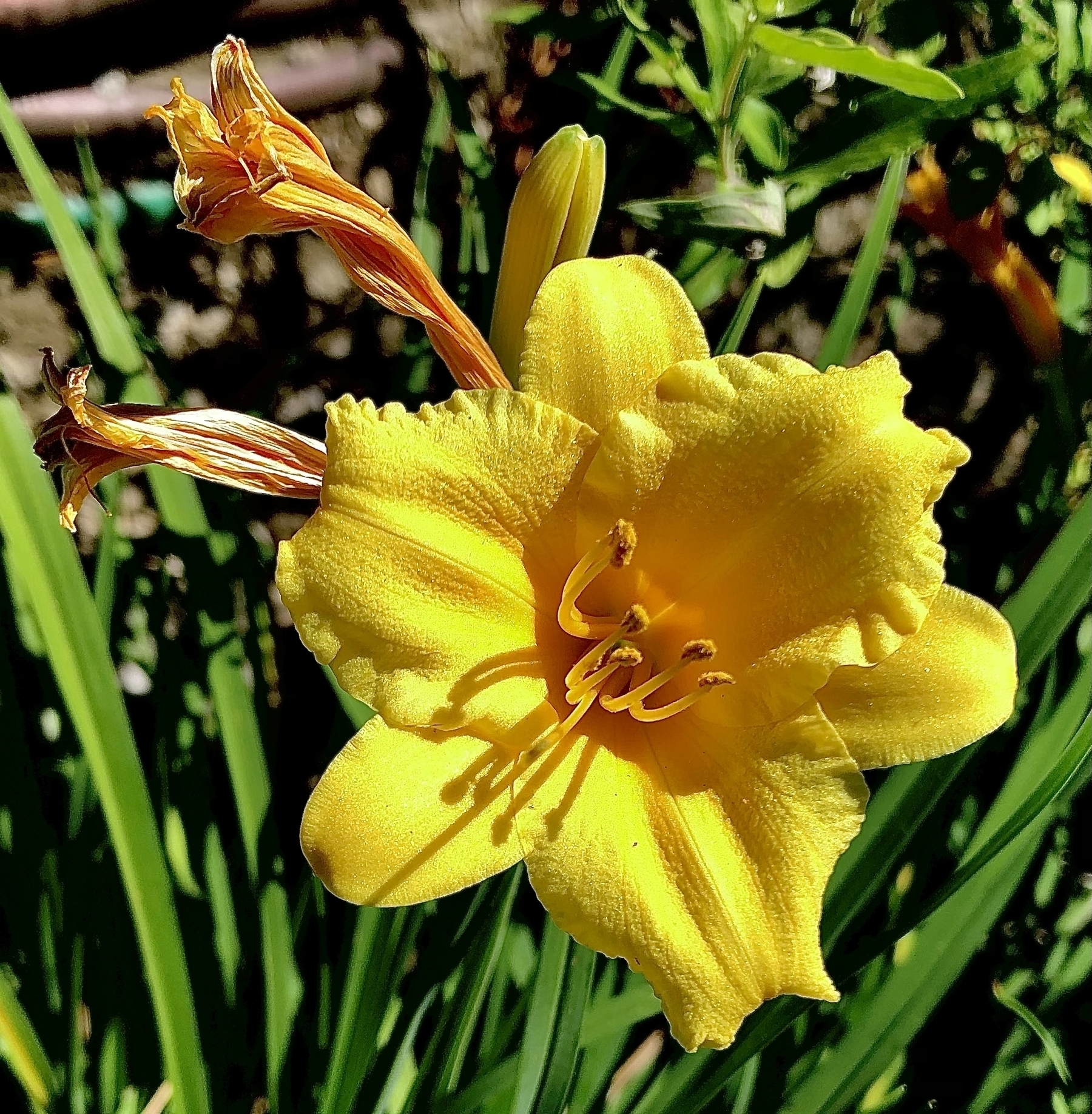 I shifted the color wheel on the photo a bit just to see what the flower would look like a tad more goldenrod or saffron: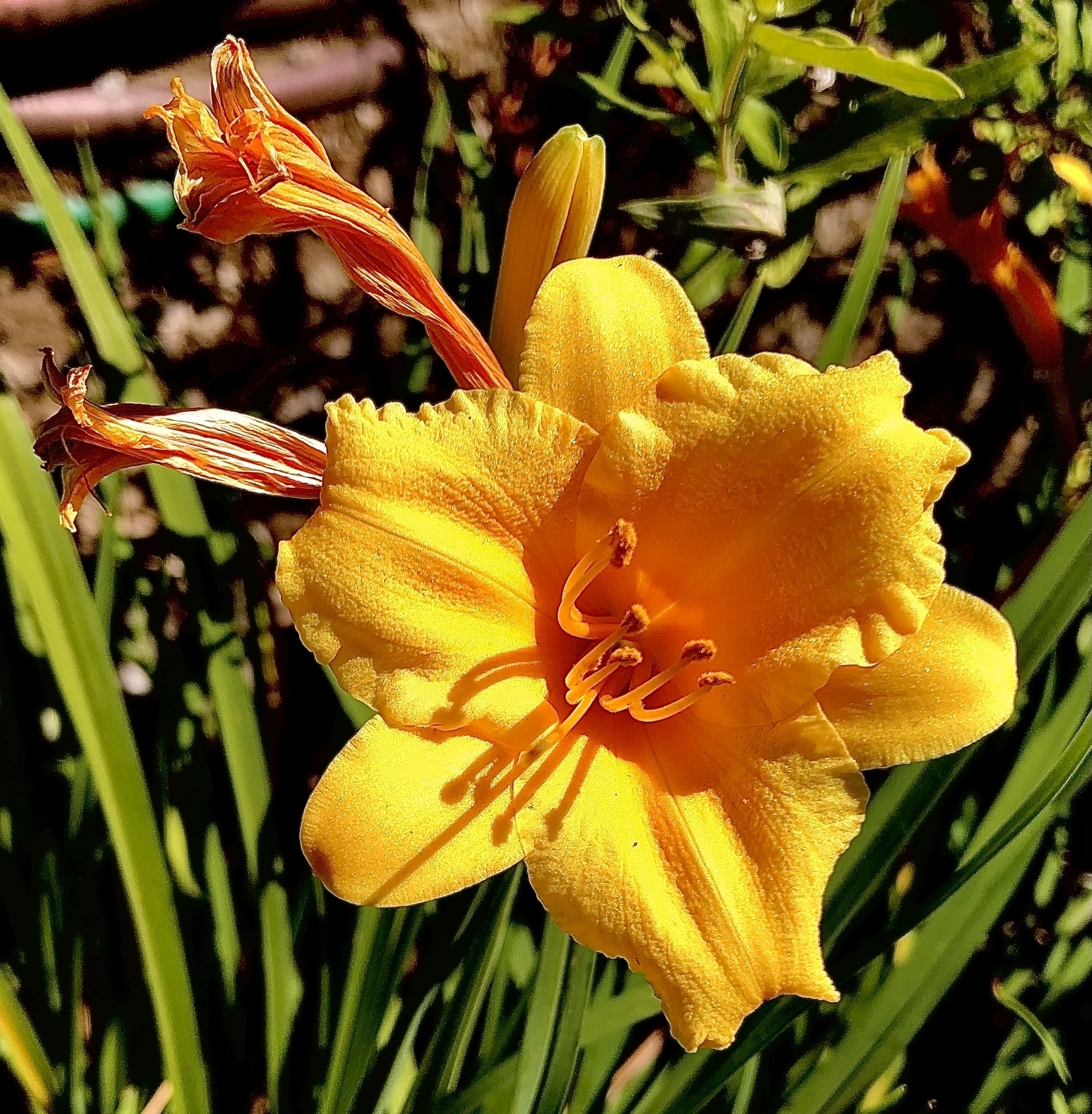 The coloration of the anthers in the one I photographed at the medical facility three weeks ago came close to my color experiment in the photo above.
Done
Prepped my work area to better support three upcoming "publishing" projects on Frameworks for Understanding the World. This included moving boxes of paperwork related to the projects out of "storage" so I can readily access them. The next step will be to reformat the website menu to accommodate material I'll eventually post to it.
Talked with my long-time curation collaborator, Bill Fulkerson, about papers and presentations we wrote during the 1990s that I unearthed when looking through some boxes. It was quite the trip down memory lane, but we did find a number of "gems" (in our opinion!) that will probably find their way into the "Frameworks…" archive mentioned above!
Completed (finally!) cataloguing the books that my brother-in-law and sister want donated, placing them into plastic containers, and moving them out of my work area and into the queue for transportation to their next destination. I can't believe how long it's taken me to do this :-( But at least I'm now ready for what's next!
Noted
Astral Prospecting on Instagram and Astral Prospecting on Facebook
Marc Bosserman on Instagram Marc Bosserman on Facebook, and Marc Bosserman Music and Musings on YouTube
Quoted
What could be better before God than thinking of the poor? For the poor are beloved by our heavenly Father. When Christ came upon the earth, those who believed in Him and followed Him were the poor and lowly, showing that the poor were near to God. When a rich man believes and follows the Manifestation of God, it is a proof that his wealth is not an obstacle and does not prevent him from attaining the pathway of salvation. After he has been tested and tried, it will be seen whether his possessions are a hindrance in his religious life. But the poor are especially beloved of God. Their lives are full of difficulties, their trials continual, their hopes are in God alone. Therefore, you must assist the poor as much as possible, even by sacrifice of yourself. No deed of man is greater before God than helping the poor. Spiritual conditions are not dependent upon the possession of worldly treasures or the absence of them. When one is physically destitute, spiritual thoughts are more likely. Poverty is a stimulus toward God. Each one of you must have great consideration for the poor and render them assistance. Organize in an effort to help them and prevent increase of poverty. The greatest means for prevention is that whereby the laws of the community will be so framed and enacted that it will not be possible for a few to be millionaires and many destitute. One of Bahá'u'lláh's teachings is the adjustment of means of livelihood in human society. Under this adjustment there can be no extremes in human conditions as regards wealth and sustenance. For the community needs financier, farmer, merchant and laborer just as an army must be composed of commander, officers and privates. All cannot be commanders; all cannot be officers or privates. Each in his station in the social fabric must be competent—each in his function according to ability but with justness of opportunity for all. 1