'Idál, 18 'Núr (Light), 179 B.E
Seen
Some of the neighbor's white clover (Trifolium repens) crept through the fence: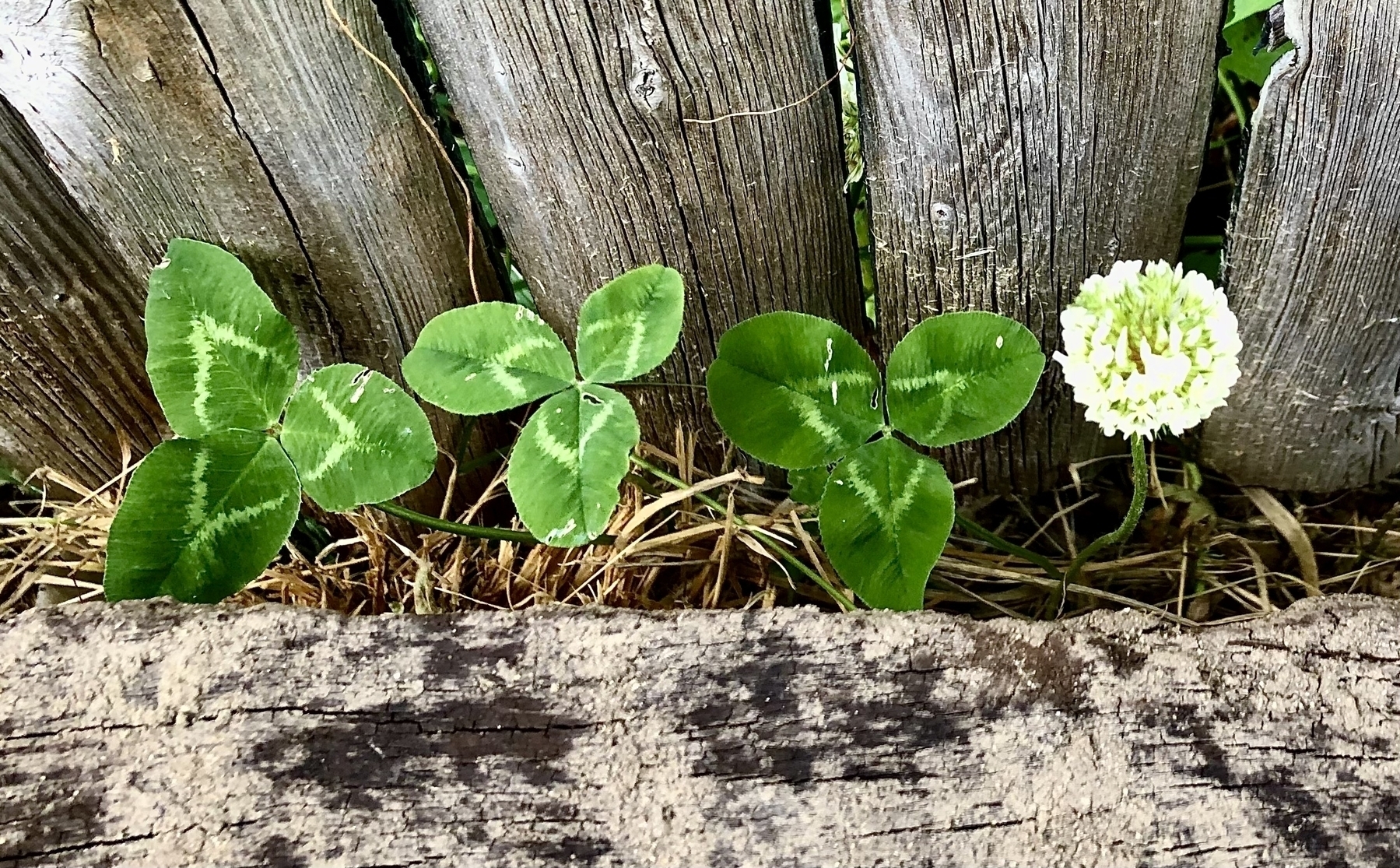 Done
Detroit: Day Eleven. Not as hot today, but still uncomfortable. My brother-in-law and I picked up 15 bags of topsoil and filled the trench left behind from pulling up the railroad tie border of his former vegetable garden. That was enough outside work for today ;-)
Michael Greenman distributed the third issue of the "How's The Weather?" newsletter today. I reformatted his email version of the newsletter using Apple Pages on the iPad and saved it as a PDF. It gave me practice using the app.
Noted
Astral Prospecting on Instagram and Astral Prospecting on Facebook
Marc Bosserman on Instagram Marc Bosserman on Facebook, and Marc Bosserman Music and Musings on YouTube
Quoted
The great mass of humanity does not exercise real love and fellowship. The elect of humanity are those who live together in love and unity. They are preferable before God because the divine attributes are already manifest in them. The supreme love and unity is witnessed in the divine Manifestations. Among Them unity is indissoluble, changeless, eternal and everlasting. Each One is expressive and representative of all. If we deny One of the Manifestations of God, we deny all. To inflict persecution upon One is to persecute the Others. In all degrees of existence each One praises and sanctifies the Others. Each of Them holds to the solidarity of mankind and promotes the unity of human hearts. Next to the divine Manifestations come the believers whose characteristics are agreement, fellowship and love. The Bahá'í friends in Persia attained such a brotherhood and love that it really became a hindrance in the conduct of material affairs. Each one into whatever house of the friends he went considered himself the owner of the house, so to speak. There was no duality but complete mutuality of interests and love. The visiting friend would have no hesitation in opening the provision box and taking out enough food for his needs. They wore each other's clothes as their own when necessary. If in need of a hat or cloak, they would take and use it. The owner of the clothing would be thankful and grateful that the garment had gone. When he returned home, he would perhaps be told, "So and so was here and took away your coat." He would reply, "Praise be to God! I am so grateful to him. Praise be to God! I am so thankful I have been given this opportunity of showing my love for him." To such an extreme degree this love and fellowship expressed itself that Bahá'u'lláh commanded that no one should take possession of another's belongings unless presented with them. The intention is to show to what an extent unity and love prevailed among the Bahá'í friends in the East.

I hope that this same degree and intensity of love may become manifest and apparent here; that the spirit of God shall so penetrate your hearts that each one of the beloved of God shall be considered as all; that each one may become a cause of unity and center of accord and all mankind be bound together in real fellowship and love. 1