Jamál, 05 'Alá' (Loftiness), 178 B.E.
Seen
The neighbors' view of my sister's geraniums …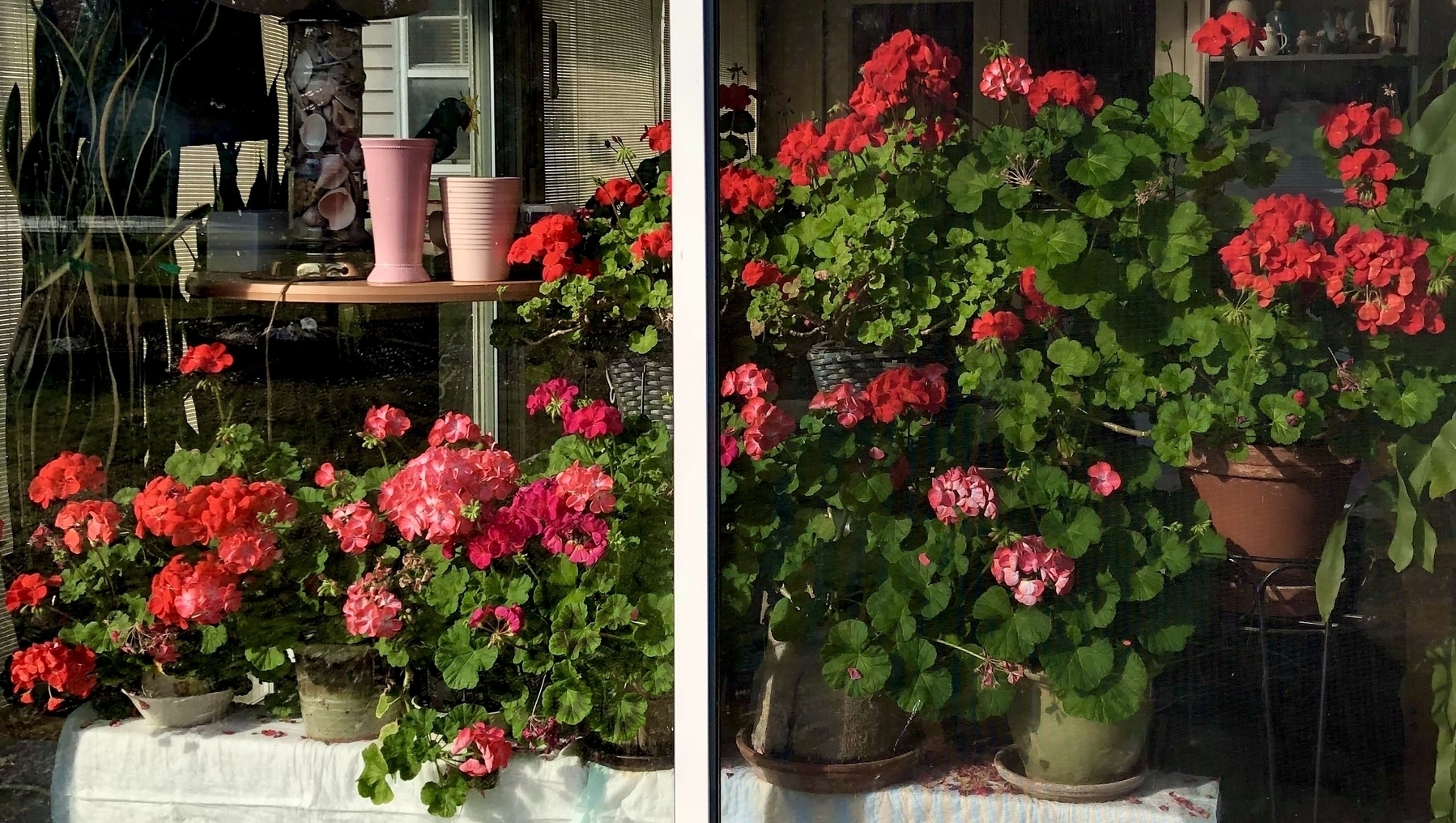 Done
Edited the "Resource Connections" page to display the Twitter name for each organization in the list, if available, and streamlined the text so there's one line for each entry in the table and there's a little space between the columns. You can see it here.
Logged into How's The Weather? (HTW) on Twitter and "followed" all the organizations in the "Resource Connections" list. That action populates the HTW Twitter feed with tweets from familiar faces. It also facilitates adding more nodes into the HTW network by simply "following" recommendations generated by the algorithm and many tweets in the feed include references to articles germane to the focus of HTW.
Drafted three new webpages for HTW on GAVNet News website: About HTW, HTW Letter Translations, and HTW Poster. Hopefully, I can get those finished and active over the next couple of days.
Noted
Astral Prospecting on Instagram and Astral Prospecting on Facebook
Marc Bosserman on Instagram Marc Bosserman on Facebook, and Marc Bosserman Music and Musings on YouTube
Quoted
In your interactions with National Spiritual Assemblies and Regional Bahá'í Councils, we ask that you devote attention to the matter of establishing Local Spiritual Assemblies and consolidating their operations, especially in areas where this aspect of growth may have received less emphasis. We anticipate this will contribute to a rapid rise in the number of Local Assemblies formed year on year. In some countries, your consultations will need to include consideration of whether in rural areas existing arrangements for defining the boundaries of each locality are adequate. 1

One compelling insight which has emerged is that the extent to which the station and leadership of a Local Assembly is recognized in a community is related to how deeply the believers appreciate the sacredness of the electoral process and their duty to participate in it, in an atmosphere wholly free from the taint of suasion or worldly attitudes about power. As consciousness is raised in a community about the spiritual principles underlying Bahá'í elections, a new conception is formed of what it means for someone to be called to serve on an institution, and understanding grows of how the individual, the community, and the Local Assembly and its agencies relate to one another. Where systematic effort has been made to stimulate conversations in a community about the formation of the Local Assembly and its purpose, and to sustain those conversations year after year, the strength of the elected body and the dynamism of community life reinforce each other. 2

This reciprocal effect has been especially noticeable over the last two years in places where we have approved the adoption of a two-stage electoral process for a Local Spiritual Assembly, an approach which traces its origins to instructions given by 'Abdu'l-Bahá to the Spiritual Assembly of Ṭihrán. Twenty-two Local Assemblies, spread over eight countries, have already begun to be elected by this method during this period. Similar in many respects to the election of a National Spiritual Assembly, it involves the division of a locality into units from each of which one or more delegates are elected, after which the delegates elect the members of the Local Assembly. As the number of Bahá'ís residing in a locality grows large and the community's capacity for managing complexity increases, the case for implementing a two-stage electoral process becomes commensurately stronger. Accordingly, in the coming Plan, we expect to authorize the adoption of this method for electing a Local Assembly in many more places, both urban and rural, where conditions make such a step timely. 3